Malaysian International Yoga Competition 2014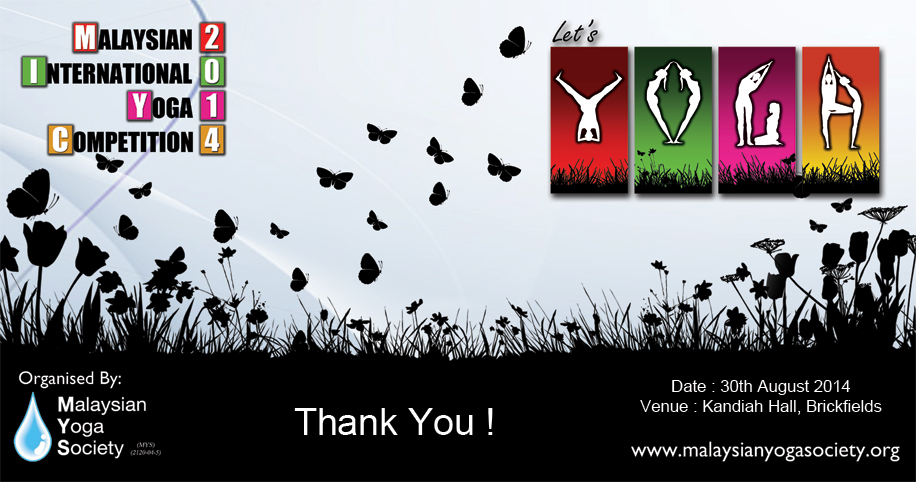 MIYC 2014: Catalyst for Positive Transformation 
by Vijaya
Never before in the history of Malaysia have we seen yoga performance being taken to such an encouraging level as this year. Time has come to raise the bar and bring the overall standard of Malaysian International Yoga Competition (MIYC) to the next level.
It was truly an awakening for the local participants. The stage as well as all the important placings, medals and winnings went almost entirely to the very strong and accomplished team from India. The youngest performer right up to the oldest one (from over 100 people) — whether child, boy, girl, man or woman – showed extreme strength, dedication and hard work as he or she worked single-mindedly towards achieving excellence.
The whole team took the annual competition to unprecedented heights with their show of absolute mastery over the postures.
This is something for local participants to learn and emulate.
Otherwise, this year (full of surprises), the MIYC 2014, organised by the Malaysian Yoga Society (MYS), was a tremendous success with an overwhelming over 600 local and overseas participants, of all ages, showing their very best Hatha Yoga skills on stage at the Kandiah Hall in SJK (T) Vivekananda, Brickfields, on August 30th.

The Vegetarian food Carnival, held in conjunction with the competition, was a great attraction as well.
There was increased participation from Singapore, Iran, Sri Lanka, Maldives and Thailand and. Overall, the participants gave a stunning and awe inspiring performance.
Though many children and adults adorned the stage with their interesting variations of amazing twists, balances and stretches, the overall champion in the children category, Yogesh Shankarsing Pardeshi from India, and the overall champion of the adult category, Chanakan Avarakkadjakaval from Thailand stole the show with their winning postures.
"The competition was much tougher this year, but local participants, a majority of them students, showed commendable improvement and great skill in presenting their poses," acknowledged Miss Devi, one of the volunteers at the competition and a yoga instructor with MYS.
Many of the students were trained by qualified MYS instructors over the year and came from underprivileged background. All these participants and those from homes were fully sponsored by MYS.
Can these students grow on par with their overseas counterparts?
When it was suggested that we should have a different category for local participants, Master Manisekaran, the founder and president of MYS, said special treatment would only make the local team weaker. "If we can rough it out, we can emerge tougher and face the world anywhere, anytime with a steady state of emotion and evolved body-mind system."

"We will improve with that kind of attitude," he said. "It is also a reality structure. When they grow up, go to work and raise a family, a protective mechanism will wipe them out of the growth circle. They should instead learn from their peers (from other countries) and emulate them."
Indeed. This is not merely a competition. It's a training ground for the holistic development of a person. It gives one the opportunity to deepen his knowledge and understanding of yoga, and about his self – motivating him to move forward and gear his self towards excellence. In the process, he would gain the strength and steadiness of mind to attain that state.

The spirit of competitions apart, the event is one of MYS' efforts to spread the awareness about the science of yoga and its colossal benefits to the body, mind and emotions.
Miss Devi, an ardent practitioner, said that yoga has the power to effect transformation from the deeper levels of the mind and has an amazing influence on the entirety of a person: internally and externally.
Umang Dawn, the leader of the Indian team, shared an interesting fact with us. The children as well as adults in their group are all high achievers in their respective fields, and have shown tremendous drive to succeed in yoga as well, hence their extraordinary performance, he said.
"One does not need to tell them to practise," he reiterated, "they do it daily, on their own". Wow!
THANK YOU SO MUCH FOR YOUR SUPPORT !!! 🙂